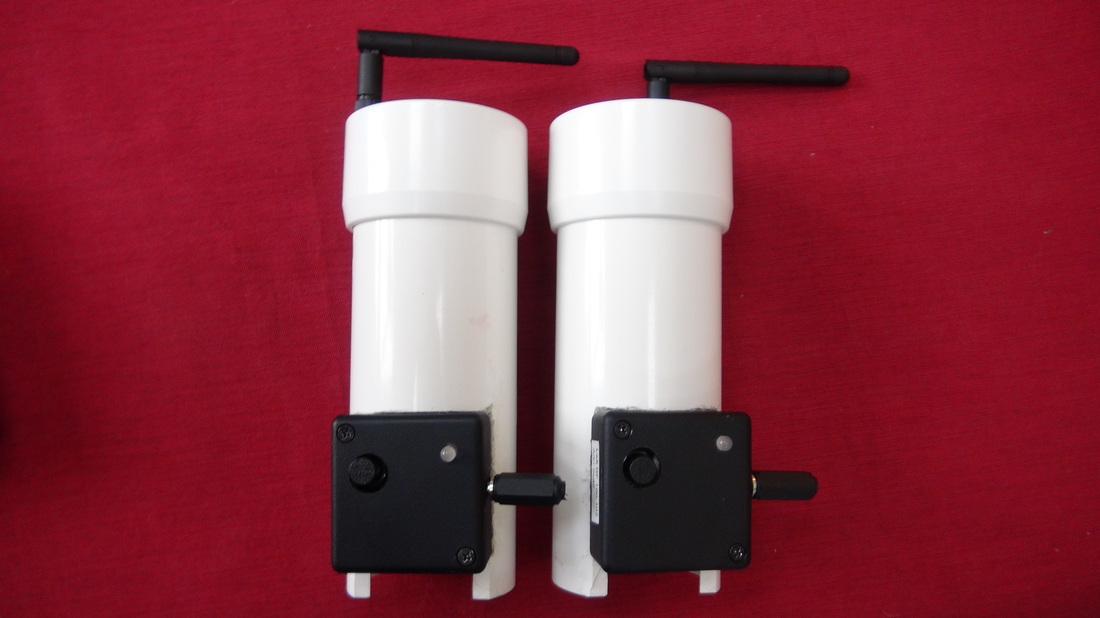 Wireless Trigger Unit Setup
The trigger units should be placed on the pass pole, not the start pole. This helps compensate for the slight delay between when the start line plane is broken and the EJS system changes the light pole LED from green to red.

Remove the green "rubberish" cap and the white pvc cap from the start pole. Often, the white pvc cap will be inside the green cover, so if you don't see the pvc cap look inside the green rubber cover.

Don't loose these! You'll need to put them back before the EJS gets packed up at the end of the tournament.

After remove the rubber cover and plastic cap, tut the trigger unit over the pass pole so it hides the green/red LED. The light pole led extrudes slightly, so you might have to rotate the trigger unit a bit to go all the way down over the LED.

Remove the shorting plug from the trigger unit. It will power on and indicate it's on by blinking green once every five seconds. You can turn it off by momentarily pushing the black button. It will blink red five times and shut off. You turn it back on by pushing the button again. It will blink green five times, then blink green once every five seconds.

When you turn on the pass pole the red led on the trigger should illuminate briefly then go off. If the LSU is setup and powered on, the red LED on the camera will also illuminate briefly.

Next, turn on the dummy" pole with the black cap that's on the inside of the lane. When you break the beam by walking between the poles the trigger and camera LEDs should both turn red briefly.


Avoid pushing and holding the button down for a long time. If you do, the trigger LED will flash green/red quickly several times and will enter a diagnostic mode.


If you accidentally enter this diagnostic mode, you can exit it by pushing and holding the black button until the LED flashes fast green/red again. Alternately, you can power cycle the triggers by inserting the shorting plug and removing it.